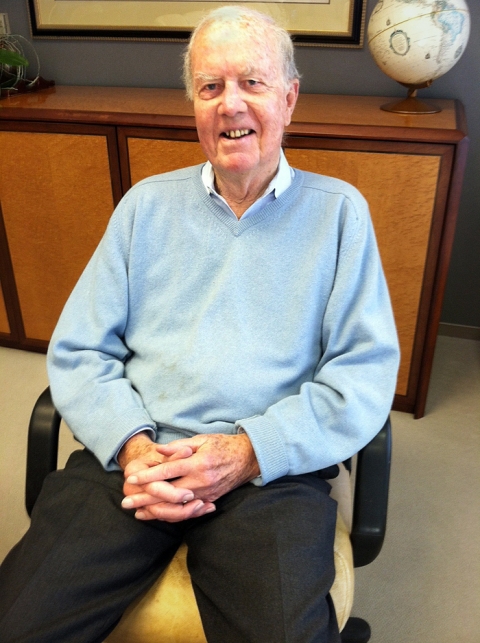 In Memoriam: William K. Bowes
Friend and benefactor of the University of California, Santa Barbara community, William K. Bowes, has passed away at the age of 90. Visionary, philanthropist, pioneer of Silicon Valley venture capitalism, trailblazer of venture philanthropy; through it all he was "Bill", husband to his wife Ute of 51 years, ally to our country's education system, and a genuine and decent human being whose life has enriched countless others through his astounding contributions and care.
The remarkable life of Bill Bowes began on July 5, 1926. Eldest son to Ruth Garland of Santa Barbara and William Bowes of Chicago. Bill's own higher education, at Stanford University, was interrupted as the United States entered World War II. After serving in the U.S. Army infantry Bill completed his B.A. in Economics at Stanford in 1950 and his MBA at Harvard Business School in 1952.
Bill had an incredibly successful career in venture capitalism in the San Francisco bay area. He was a founding partner for U.S. Venture Partners ("USVP") as well as a founding shareholder of Amgen Inc. His success helped feed his boundless generosity. From venture capitalist to venture philanthropist, there was no end to Bill's desire to give back to his community. In addition to UC Santa Barbara, Bill gave generously to the California Institute for Regenerative Medicine, the Harvard Stem Cell Institute, the United Religions Initiative UCSF, the Exploratorium, Grace Cathedral, KIPP schools, the San Francisco Opera, the San Francisco Conservatory of Music, the International Rescue Committee, SFJAZZ, the Fine Arts Museum of San Francisco, the Environmental Defense Fund, Stanford Bio-X, the Asian Art Museum, the California Academy of Sciences, and Teach for America, just to name a few of the great causes where he left his mark of generosity and kindness.
Bill and Ute Bowes touched the UC Santa Barbara community in a lasting and meaningful way. In 2007 they established an endowed chair at the UC Santa Barbara's Center for Stem Cell Biology and Engineering. The Garland Chair was named in honor of his mother, who was one of the first women to graduate from the Stanford School of Medicine, and worked as a physician in Santa Barbara with William Sansum. The Bowes Foundation also funded the Garland Initiative for Vision at UCSB, which has enabled the development of stem cell therapies for age-related macular degeneration, diabetic retinopathy, and retinitis pigmentosa. Named an honorary alumnus in 2013, Bill will forever be remembered and celebrated for his altruistic philanthropy here at UC Santa Barbara.